Council Grove, Kansas Antiques
Please help promote these Businesses :
Antiques Directory
|
Kansas Antiques
|
Council Grove Antiques
THE KATY DEPOT
512 East Main
Council Grove, KS 66846
1-785-8294


Welcome to "The Katy Depot". We are pleased to invite you to our shoppe. Antiques and collectables for you to browse and enjoy. We have something that will fit all pocketbooks. Items change frequently and there is always a variety of goods to choose from. Little to Large whether it is a gift for a friend, loved one, or yourself. So come on in and let us make your visit a more enjoyable one.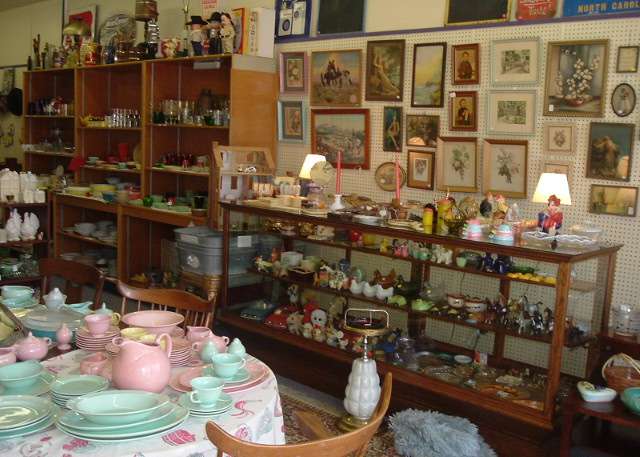 MAIN STREET MERCANTILE ANTIQUES
204 W. Main Street
Council Grove, KS 66846
620-767-7405
620-767-6862
Queenglinda52@yahoo.com


Main Street Mercantile is an Antique Shop on the Santa Fe Trail in the charming and historic town of Council Grove, Kansas. We specialize in everything from Primitives to Retro. We shop around to bring you the best! Our customers squeal "OOOOHHHHMIIIIGOSH! I can't believe you have this!" You never know what you will find so come see us! Hours are Wed.-Saturday 10 to 5. Or open by appt. call 620 767 7405 (day) and Glinda for off hours at 620 767 6862. We'd love to have you visit our charming village. Council Grove is one of the hottest attractions in Kansas, located at the junction of HWYS 56 and 177. Our Main Street is the only Main Street located directly on the Santa Fe Trail. As you follow the Trail as best you can by car, you can see the ruts from several locations nearby. We have ALL the history of the Wild West for your enjoyment, the best in dining (my fave is Terwilliger House) with a large dose of history to go with it, and accommodations at The Cottage House with its elaborate Victorian Period furnishings. You will LOVE your stay in Council Grove!